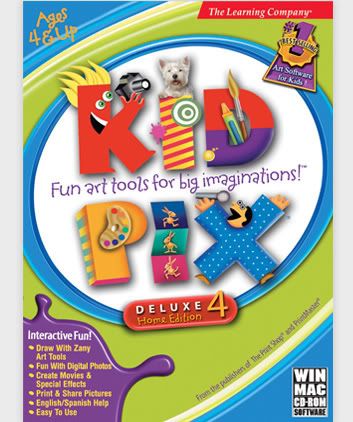 Pintu Kaya - Anak-anak kecil yang sekarang lucu dan imut itu suatu saat akan tumbuh menjadi sosok yang hebat pengganti kita-kita yang sudah separuh baya atau sudah Om-om ini. (Saya tidak termasuk lho,
)
Nah, buat yang sudah punya momongan atau adik yang masih kecil, mungkin beberapa software ini cocok untuk anak-anak anda.
Software dibawah ini mengajarkan anak kita untuk berfikir lebih kreatif dan inovatif.
Langsung saja Bro, di Cekidot dulu :
Fun Art Tools for Big Imaginations! :
Bring out the brilliance in your young artist with the unlimited creative power of Kid Pix! Freshly updated with an easier-than-ever interface, a larger creative canvas, and a host of irresistible new tricks and tools, Kid Pix Deluxe 4 Home Edition invites artistic kids to paint, stamp, scribble, write, imagine, explore and dream - all with the click of a mouse!
Impressive Print Projects.
Kid Pix® Deluxe 4 is the ultimate creative playground! Create dynamic works of art using a variety of virtual media — from oil paints and collage to rainbows, trees and more!
Work with traditional art tools like chalk, paint, pencil and crayons in the Realistic Paint Mode
Choose Crazy Art Tools to paint with the "electric mixer", wacky brushes, spray paint and more!
Sound Art! Paint wild pictures using the sound of your own voice!
Spray your scene with 3D shapes, including bugs candy and more!
Create your own animated movies
Use special effects like warp, splash and smear
Download Link Here, bos :
http://hotfile.com/dl/34311951/80f5d01/4DeluxeKidsPixDeluxe4.part1.rar.html
http://hotfile.com/dl/34312084/537a686/4DeluxeKidsPixDeluxe4.part2.rar.html
http://hotfile.com/dl/34312194/c2de266/4DeluxeKidsPixDeluxe4.part3.rar.html
http://hotfile.com/dl/34312263/b51477b/4DeluxeKidsPixDeluxe4.part4.rar.html
Total Size = 400 MB
Nah kalau yang satu ini Web Browsernya khusus anak-anak.
Dulu Pintu Kaya pernah share
disini
Kalau Mau Download Bisa
disini
Semoga berguna yah buat Sobat Blogger sekalian